2018-19 ATSU University Catalog
[ARCHIVED CATALOG]
2018-19 ATSU University Catalog
---
Welcome
Letter from the President
Welcome to the A.T. Still University family! It is an exciting time to be part of this dynamic, growing University, and I am pleased you have chosen to pursue your dreams with us. There is no place like ATSU. Students, faculty, staff, Board of Trustees, and communities work together to achieve outcomes only possible through extraordinary teamwork and alliances. At ATSU you will experience the benefits of rural and urban perspectives on healthcare, a commitment to whole person and whole community health, a family approach to nurturing student learning and personal growth, interprofessional experiences, and an inclusive and collaborative environment.
May your time at ATSU be filled with professional success and a great sense of accomplishment as you learn to become tomorrow's healers and healthcare leaders.
Yours in service,
Craig M. Phelps, DO, '84
President
P.S. Do you have an idea to make ATSU a better place to learn? Email your idea to ATSU Idea Box at ideas@atsu.edu, and I will personally respond.
Catalog Effective Date
The effective date of the 2018-19 Catalog is June 1, 2018.
Academic Calendar
View the 2018-19 University academic calendar.
Contact Us
Missouri Campus Contacts
Arizona Campus Contacts
Missouri Campus
800 W. Jefferson Street
Kirksville, MO 63501
 
Arizona Campus
5850 E Still Circle
Mesa, AZ 85206
480.219.6000
Academic Affairs
Norman Gevitz
Senior Vice President for Academic Affairs
660.626.2726
ngevitz@atsu.edu
Student Affairs
Lori Haxton
Vice President for Student Affairs
660.626.2236
lhaxton@atsu.edu
HR Missouri Campus
Donna Wyatt
Assistant Vice President of Human Resources
660.626.2790
dbrown@atsu.edu
HR Arizona Campus
Tonya Fitch
Director of Human Resources
480.219.6007
tfitch@atsu.edu
Residential Admissions
866.626.2878 ext.2237
admissions@atsu.edu
Online Admissions – College of Graduate Health Studies
877.626.5577
cghsonlineadmissions@atsu.edu
Online Admissions – Arizona School of Health Sciences
877.469.2878
onlineinquiry@atsu.edu
Catalog Download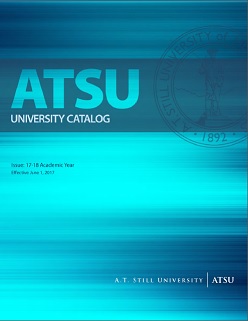 The 2018-19 ATSU University Catalog is available in PDF format for downloading or viewing. 
2018-2019 University Catalog (pdf)        
18-19 Catalog Quarterly Addendum No. 1 (pdf)   
18-19 Quarterly Addendum No. 2 (pdf)  
18-19 Quarterly Addendum No. 3 (pdf)  
Disclaimer
The A.T. Still University (ATSU) Catalog provides students with important information about policies, procedures, requirements, and services. Students are required to read, understand, and adhere to the provisions of the Catalog. An updated version of the Catalog is published each academic year. The yearly update (and any subsequent updates during the academic year) supersedes all prior editions and provides the latest rules, policies and procedures to create the most up-to-date student reference.
The provisions of the Catalog do not constitute an irrevocable contract between ATSU and its students since plans, policies, requirements, and services may be altered from time to time. Therefore, ATSU reserves the right to amend modify, add, or delete information within the Catalog at any time without advance notice.
Students are also required to thoroughly review the University Student Handbook for important additional policies, procedures, requirements, and services.
For A.T. Still University's policy prohibiting discrimination, harassment, and retaliation (ATSU Policy #90-210), please see: www.atsu.edu/prohibition-of-discrimination-harassment-and-retaliation. The policy in its entirety is located within the ATSU Policies section.
The University complies with the Drug-Free Workplace Act of 1988 and the Drug-Free Schools and Communities Act Amendments of 1989.
---